Build a solid foundation for creating the complete picture
of your district through clean, up-to-date and standardized
data with the help of CPSI.
Schools use data that comes from many different applications and sources. Student data is entered into the Student Information System while Staff data is stored in the Human Resources System. The problem is that the data in the SIS and HR systems is locked into these applications and people have to re-enter the same data many times. Other applications – such as the cafeteria software, bus systems, library systems, teacher tools, learning management systems – also need this data. Entering data manually is frustrating for users, takes up too much time, and increases the chance of mistakes. The result of this is that data in critical applications is incorrect and out-of-date.
A common approach to addressing the issues of data collection from many different systems is to attempt to synchronize the data from the various sources using SQL scripts and batch file processing. Unfortunately, this method of collection is performed on a scheduled basis. The scheduled file uploads happen once a day, at best, and often times happen closer to once a week or once a month. In these cases, districts do not have data that is up-to-date enough to complete their state reporting or to deliver accurate student rosters to teachers in the classrooms.
When IT staff is loaded with the burden of collecting data in this manner, support tickets add up. This is due to district administrators having wrong data for their reports and teachers seeing incorrect data in their classrooms. This leads to frustration amongst the IT staff members because long hours are spent keeping data up to date. The issue costs the district time and money through wasted hours, especially during busy state reporting periods where the data is essential for district funding. Additionally, when technology becomes a burden on teachers, inaccurate and out-of-date data can lead to lower test scores, loss of funding, and even frustration from parents and students.
CPSI helps districts overcome these challenges. We help schools and districts finally leverage all kinds of data – from rosters to assessment data to attendance and more—across the entire district in real time. With CPSI, all of the school and district staff can be confident that the information on their computer or device always reflects the students and the true "picture" of the data in the district.
Our solution provides everyone in the district – from superintendents to teachers to IT staff – with the underlying foundation to provide up-to-date and "trustworthy" information to all of the applications they use. IT staff is given the tools they need to keep the data up-to-date in real time. Administrators are given the data they need to get funding, allocate resources more effectively, plan school growth, assess teachers, and more. Teachers are enabled with the data they need so they can focus on their education mission and are equipped with the insights to meet the unique needs of individual students. Parents are enabled with a secure environment with real-time information to help them actively engage with teachers. Students are truly able to access the applications they need to succeed.
A real time educational data collection system that includes checks and balances as well as standardization creates an environment for improved teacher performance, better test results, better financial planning and resource management, and reduces frustration for IT staff, administrators, teachers, parents, and students alike.
"As a teacher, I am assaulted by data on a daily basis.
I need the data I see to be accurate. I wish I could spend less time dealing with incorrect data in the software I use and spend more time doing what I do best – teaching."
CPSI provides tools to collect data in real time so teachers can spend their time in the classroom teaching and use the tools provided to them more effectively.
"As an administrator, I rely on my data collection system
to provide up to date student data so I can make better decisions for my district based on what is happening right now in my district."
CPSI provides solutions for districts to get them on the right track and prepared for analytics and reporting for their district.
"As support staff I would love to spend less time managing AD
I wish we could automate the process of creating student and staff accounts. Why can't it be easy?"
xdAD automates the entire Identity Management process through integration with the SIS and other systems. With so many features, xdAD is a complete AD solution.
"As a state, we need to manage the collection of thousands of students
data in a very short period of time. Traditional file uploads are just not meeting our needs, is there a better way?
CPSI has experience in state collection and has been doing so for over 8 years. Our solution scales to meet the performance and load needs of state level implementations.
District data is located in many different software applications.
Without a way to gather this information together, we cannot see the complete picture of the student. Using xDComposer and xDStore, you can gather all of your data into one space.
This means that your data can be combined to create a complete picture of your students, staff and more. You can be sure the right players on your team always have the data they need to do their jobs well.
The data teachers and staff need is not always up-to-date.
If the data is stale, the data is not usable. Teachers need their rosters to match the student sitting in front of them. Administrators need the most up-to-date data to make decisions effectively.
Using the xDComposer and xDStore, you can work with data truly in true real time. Unlike file uploads, spreadsheets, and other traditional models, data is collected as it is entered into the system. This means that the minute Mrs. Smith types in a new student in the Student Information System, that student appears on the roster list for the teacher in the classroom.
Garbage in, garbage out. Data entry is not always accurate.
When a teacher sees incorrect information in her software, classroom time is wasted and teachers get frustrated. The wasted classroom time means the teacher is spending less time teaching. That fact ultimately leads to lower test scores, loss of funding, questions on teacher performance and extra frustration for the district as a whole.
Using xDValidator, data is validated and checked based on the rules of your district in real time. Data entry staff is informed within minutes of a record entry of any issues with the record. Data entry staff corrects the data at the source, creating data that becomes reliable over time.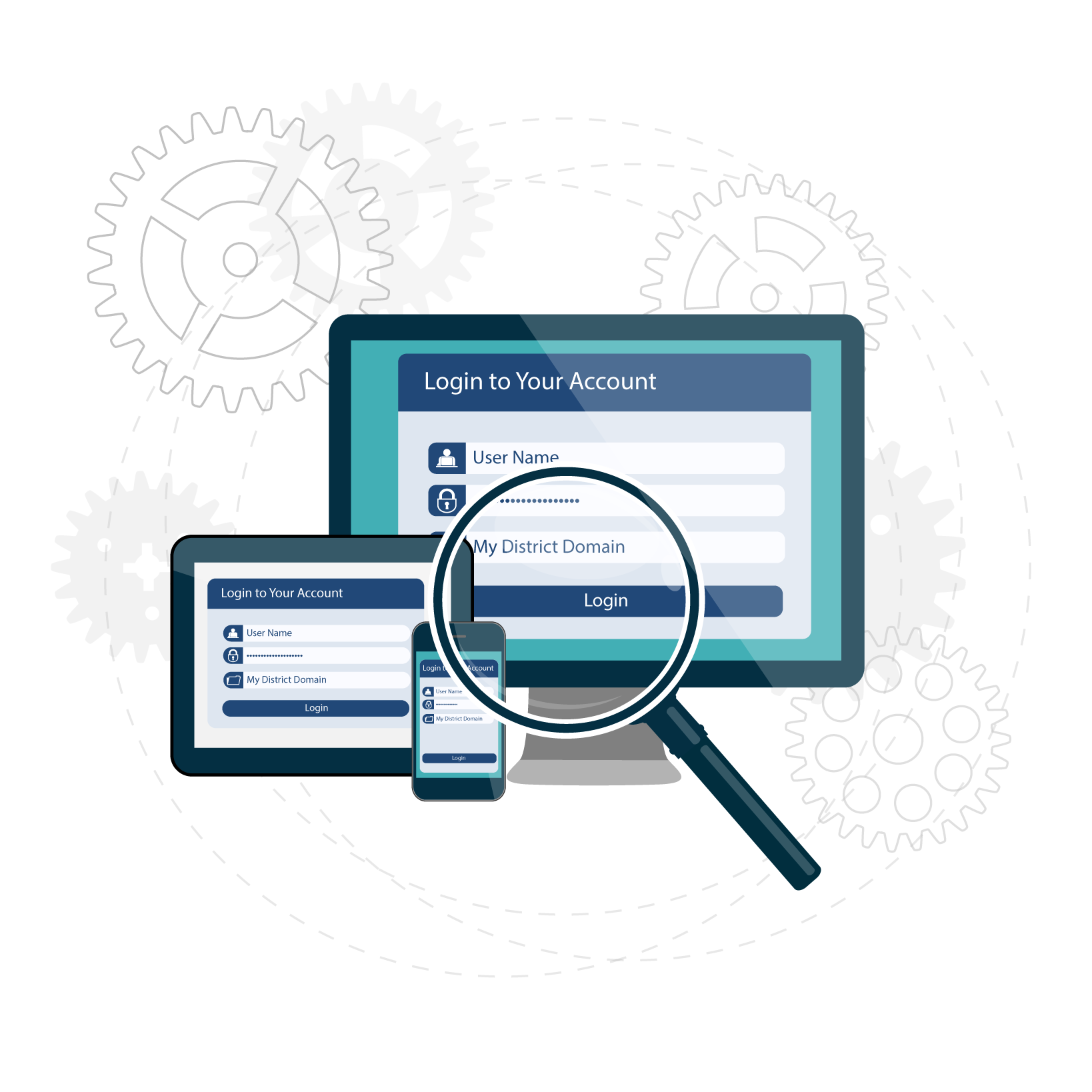 Active Directory has no included automation tools to create users based on external source systems, such as an SIS.
District IT staff spends a lot of time creating and managing scripts to try to handle AD automation. This increases the amount of work for an IT staff that is already stretched to its limits.
CPSI's xdAD lets your district staff take charge of automation with an easy to use environment. It eliminates the need for scripts and works with data from any source system to automate Active Directory.
Without complete, up-to-date, and accurate data, reporting just doesn't work.
Teachers and staff are quick to abandon software that does not appear to work for them because the data on the screen is not correct. District administrators need to analyze data using the complete picture of their district.
Using CPSI's data automation and validation tools, you will be ready to report data using any software of your choice. With real time data, teachers will always see the correct data in their rosters. Administrators will have up-to-date and accurate information for district and state reporting needs.
You need a company with experience in the education world – with staff who wants to help students as much as you do.
CPSI has been in business for over 25 years with one focus only – to make data accessible to teachers and staff so that they can provide a better education for the next generation of students. We believe that every student deserves the foundation of a good education. Take a look at how we love education.
CPSI was founded in 1990 with the idea that technology could be used to help students if it was easier to manage and use. Starting as a hardware reseller, we found our first niche in network management. As a result, we created software that would make the management of user accounts for networks easy for the first time. We have been dedicated to software for K-12 education from that time on.

Our staff is comprised of amazing and passionate individuals with degrees ranging from Computer Science to Microbial Biochemistry to Aerospace Engineering. Several of our staff members have even been in positions at districts themselves. Each staff member has unique talents and experiences that they bring to our team. Our diversity gives us a unique approach that allows us to react to the needs of education quickly and effectively.

We have experience. We have staff that has been with us for just a few years as well as staff that has been with us for over 20 years. From small districts, to districts the size of small states, and on to state level implementations, we know the workings of K-12 education. We give that breadth of knowledge and experience back to you.
Every member of our team believes in education and works hard for our clients. We know that, at the end of the day, we are making a difference in education. Our passion for education is our pride.

Our CEO, Dr. Michelle Elia, received her PhD in Education in 2016. The focus of her dissertation was to research the viability of an Early Warning system that would truly predict outcomes based on the data from a typical PK-12 longitudinal data system. She is using her knowledge gained from this research to help focus CPSI on its future vision.

We have been members of Schools Interoperability Framework since its founding year. We promote the use of solid data standards in education. We also support other common data standards such as CEDS, Ed-Fi, Ed-FACTS and more.

Did you know we work with all areas of education, including states? We have multiple state level implementations and work with school districts across North America. We have clients in nearly every state as well as clients in Canada, the UK, and Australia. Whether your district is just a few hundred or half a million students, our solutions and team experiences meet your unique needs as K-12 education agencies.
You don't have to take our word for it.
Every customer has unique needs and situations. Over the years, our clients have had some pretty incredible results. Check out our case studies so you can see what customers are doing with our solutions.
"CPSI is willing to do whatever it takes to get the job done."
They have excellent customer service. They are very knowledgable in what they do. To say that CPSI has great customer service and is always attentive to the needs and wants of their customers would be an understatement." – State User in Oklahoma
Our School District has been working with CPSI for the past 3 years. They built the SIF agent we use with our student information system and have provided a custom agent for use with our SQL data base we use to publish staff information. The support staff is top-notch. I can't say enough about how hard and efficiently they work to meet our needs. I can simply send an email and they contact me right away with a solution. Their professionalism and willingness to get the job done have made my ability to get my job done much easier. I know I can count on them to provide an answer when I need it.
My original call to CPSI was at the recommendation of Versatrans for help setting up our SIF agent. I had the pleasure of speaking with Joe Dobronski who introduced me to the VCASEL product. It seemed too good to be true, but well worth the try.
In addition to the SIF we purchased the VCASEL product. I could not be any more pleased than I am at how wonderful the product has performed and even more how helpful Joe has been to getting us going and keeping us going. While I know Joe has many customers he takes care of, I've never felt like we were anything but his only one. He always seems to remember our setup and on many occasions has pro actively called to remind us of tasks we needed to do.
We couldn't be happier with the products or services we have received from CPSI.
We have been using the Synergy SIF agent for several years in our K-8 environment. CPSI has been wonderful to work with. Since initial set up, their support team has been prompt, accurate, professional, and responsive to our help requests. CPSI Ltd. has always given us excellent advice and competent guidance. We consider them one of our most helpful vendors and highly recommend them.